Once you establish a business or launch a new brand in the market it needs to remain exclusive. It means that this brand or product belongs to you only and is safe from all kind of infringements. Hence, no one else is reaping the benefit on the name of your brand. Your brand gets this exclusivity get a trademark for it. For this purpose, you need to hire a trademark paralegal that makes the trademark filing process easy for you.
So, the questions that now arise are, "What is a trademark? What benefits it provides? How trademark paralegal help in trademark registration? How much you need to pay as trademark paralegal salary?" This article will solve all such question of yours. Hence keep reading to know more about it.
Also read: Patent paralegal for patent landscape analysis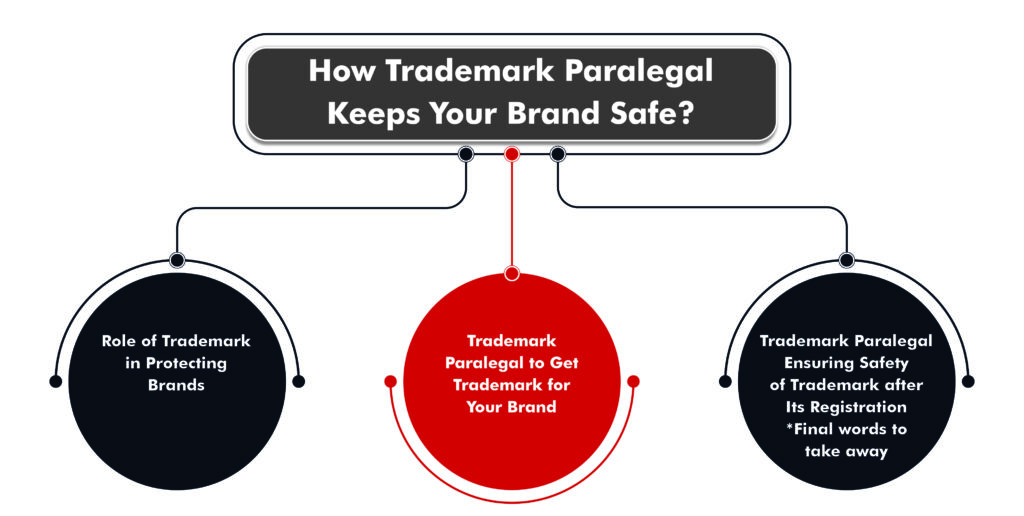 Role of Trademark in Protecting Brands
Trademark is the unique identity of a brand/business that separates them from their competitors providing similar services. You will agree to the fact that reputation of any product is made by what brand name it carries. Hence, by giving trademark to your brand you avoid confusion among customers about similar fake products in the market.
Thus, getting a trademark will help your brand have its own value and recognition in the market. Trademark paralegal you hire also helps you to take legal actions against any infringer. The infringer is one who promotes his own business by copying your trademark.
Also read: IP Paralegal patent watch services to remain competitive
Trademark Paralegal to Get Trademark for Your Brand
As stated earlier, trademark registration is the process to get trademark for your brand. You can choose the name, logo, or any kind of sign to provide trademark to your brand. Once the trademark registration is done it will act as the trademark for your product.
But is it that simple to provide trademark to a brand?
Of course not, the trademark you choose for your brand needs legal registration with trademark office at your location. But, there's lot of search and legal process that needs to be done prior to trademark filing for trademark registration. Thus, you need to create vacancy for trademark paralegal job and hire a professional for it. The trademark paralegal will help you in all the activities you read earlier.
But, the most important processes that you need to follow prior to trademark filing is –
Trademark Search –
Availing trademark search service tells you," Does there exist, any similar trademark in the market like yours?" If yes, then you should look for some other trademark. Hence, you can find, whether your trademark is fit to use commercially or not? Fit to use trademark is one that invites zero infringement action and possible rejection from the trademark registration office.
Hence trademark search of paralegal you hire, saves you from spending on trademark registration that is not available to use. Hence you don't receive office actions also.
After ensuring your trademark is available for use, trademark paralegal submits your trademark filing application. Trademark examiner at the respective trademark office examines your application. Once he finds your application correct, your trademark registration is com. Now you own a registered trademark for your brand.
However, if it is found already existing, with similar sounding name then your trademark application faces rejection because of infringement. You will then have to modify your trademark and again file the application for it.
Also read: Outsourced paralegal services for patent registration
Trademark Paralegal Ensuring Safety of Trademark after Its Registration
TRADEMARK MONITORING –
After the registration of your trademark it has become your legal property. But how will you ensure no else in the market is using your trademark? Trademark Monitoring service of trademark paralegal you hire cover this concern very well.
Trademark paralegal salary you pay keeps a track of all the trademark filings across the world. It also tells you which one is infringing your trademark. Thus, it assists you in lodging complaints timely, and then you can take proper legal actions against the infringers.
Also read: Taking paralegal help for patent search
Final Words to Take Away
Any error in your trademark filing application will make your application reject for various reasons. One of that reasons is possible infringement. This will cost you time and money both, hence, it's better to step aside all kind of possible rejections before trademark filing. Thus you need to hire trademark paralegal professional who has got experience and skill. You can trust us, "Patent Paralegal Force" to get your trademark registration at earliest.
We use advance algorithms and state of art tools with our IP paralegal professionals. We provide you monitoring and alert services on regular basis, and help you in legal analysis. It helps us to find availability of your trademark. Thus, we assist you in getting your trademark registration done at earliest in the most efficient manner. The price we offer is such that even the smallest of businesses and start-ups can avail our services.
Other related Articles:
Is your trademark at risk of infringement?
Patent Illustration Work: How to create perfect disclosure