Investing in research and development opens up the prospect of multiple options before an industry to make more revenue from the market. However, there are many concerns that prevent industries from investing in R&D. Biggest of those is whether the technology they are investing in is worthy to develop or not? You get this answer by hiring a patent paralegal for patent landscape analysis.
Patent prosecution paralegal you hire answers the question rising in your head in form of patent landscape reports. This article tells you about everything about the landscape analysis. You will also get to know how they solve your many problems. So read till end.
Also read: IP paralegal patent watch services to remain competitive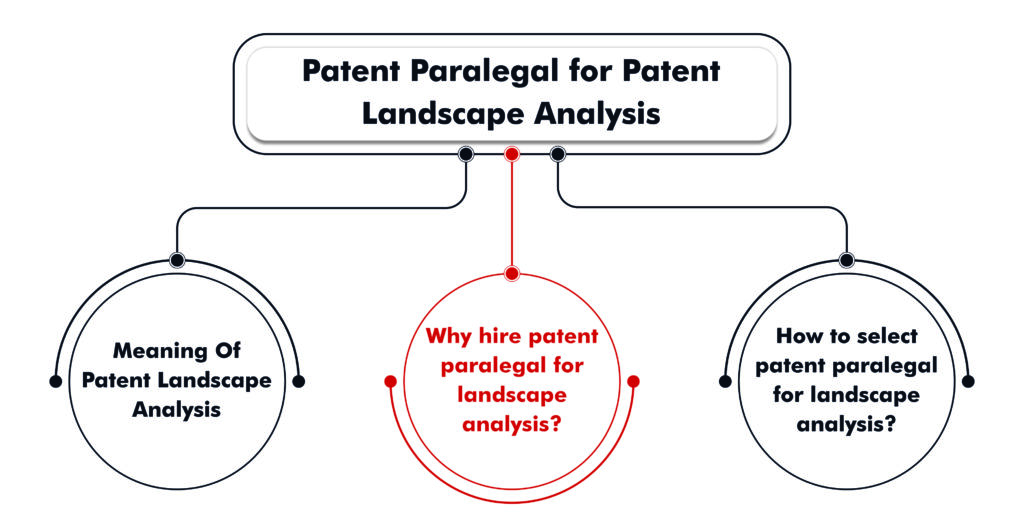 Meaning Of Patent Landscape Analysis
Landscape analysis report gives complete and every kind of information about the technology you are going to do R&D on. This helps you understands the worth of technology you are going to develop. You will also understand the competition you are going to face in the market after its launch, prior-art technologies, etc.
It is done by hiring the experts of patent landscape analysis i.e. the patent paralegal. They are the patent paralegals that gather all these information from relevant patent databases. They do so manually by entering unique keywords matching with the technology you are going to develop.
One example of patent landscapeanalysis is it helps you categorize your invention. When you categorize it, its study becomes easy. You can thus easily do its comparison with other similar inventions in the market.
Suppose you are developing a pharmaceutical formulation, thus patent prosecution paralegal will categorize your formulation into sub-sections of composition type. It will be as, intake (injectable or oral), physical state (tablet or liquid), disease on which it works, etc.
Also read: Taking paralegal help for patent search
Why hire patent paralegal for landscape analysis?
Patent landscape analysis answers all the questions standing in front of you as the business challenges. So if you are thinking, what does a patent paralegal do? Here is your answer the patent paralegal assistant you hire helps you take better decisions for your industry.
Some proven benefits of choosing patent landscape analysis are –
It identifies the application areas of your invention and hence finds the right kind of customers suitable for your invention.
On the basis of above point, it also finds you the prime geographical hot-spots or locations that fruitful for the launch of technology you are developing.
Patent landscape analysis tells you about the top players in the market. You get to know who may possess you challenge in the future in the same technology you are developing.
It tells you whether there is any existing prior-art or not. Hence, patent law paralegal prevents you from falling for infringement of others patenting rights.
Once everything is clear, it tells you the opportunities for licensing of your technology. Don't worry you also get to know the probable industry players who may show interest in buying the license of your technology.
Patent landscape analysis also tells you about if any small and large players are working on the same technology or not? If yes, you may think of collaborating with them and jointly develop the technology. It will eliminate your competitor from the market.
Also read: IP Paralegal services for easy patent grant
How to select patent paralegal for landscape analysis?
As told earlier, patent landscape analysis is a manual search of patent databases that requires professional assistance. Hence, you need to hire the patent prosecution paralegal that understands your needs and provides you best patent landscape analysis service. This is what we as an patent attorney organization we do for you. Thus, you need to choose us, i.e. "Patent Paralegal Force"
Our patent paralegal experts come from all the possible technology domains. We provide patent services in field of invention you like. You can choose us to assist you with patent monitoring, docketing, proofreading, filing, etc. Services you get from us are speedy and highly cost effective. Read more about our services here.
Other Related Articles:
Is your trademark at the risk of infringement?
Patent drawings: What's the need?