The paralegal profession is a great choice for people who wish to work in the legal area. This is because paralegals work in several law fields, each with its own set of skills and duties. An Intellectual Property Litigation Paralegal, for example, may work with a company to get a patent application. In contrast, a paralegal in immigration law would assist a client who doesn't understand English with document translation.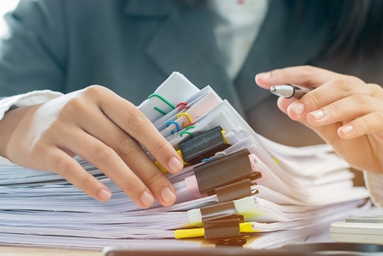 Also Read: 5 Top Duties of IP Litigation Paralegals
Intellectual Property Litigation Paralegal: Introduction
An intellectual property litigation paralegal, or "IP" litigation paralegal, specializes in intellectual property litigation, including copyrights, patents, and trademarks. Moreover, IP litigation paralegals support IP litigation attorneys in their client work. IP litigation paralegals must always operate under the supervision of a practicing attorney. Further, they are not attorneys and do not remain admitted to the patent bar or the bars of any state. Also, an IP litigation Paralegal helps IP attorneys and law firms with document drafting, document discovery, and trial preparation.
Intellectual property is an intangible asset that corresponds to human intelligence production. Intellectual Property, or IP, by law, belongs solely to the individual who created it. Patents, trade secrets, copyright, industrial design rights, and trademarks are examples of intellectual property rights. These rights aid in the protection and enforcement of intellectual property and prevention of access to counterfeit and pirated goods.
Also Read: A Carrier Guide for IP Paralegal Jobs
Applications For Trademarks and Service marks
Clients can claim rights to a mark by filing a Trademark application with the USPTO. This allows them to protect the mark from any misuse. Moreover, it aids in establishing ownership of certain trademarks, logos, and slogans and preventing them from thefts/infringements. Here, a trademark paralegal can help you classify your trademarks as intellectual property and defend them against infringement. Further, an IP paralegal will efficiently assist you through the whole procedure. It may include physical filing or online trademark registration and this reduces the possibility of application rejection. They keep an eye on the application's progress and submit response forms if the USTPO requests further information.
Also Read: Who is an IP Paralegal and Why Do You Need One?
Application For a Patent
A patent gives the owner a patented technique, design, or invention the exclusive right to use it. It allows the creator to restrict any third party from producing, selling, or utilizing the innovation for a limited period. Utility patents, design patents, and plant patents are the three types of patents. To be eligible for a patent, the invention must be both "new" and "non-obvious."
An IP litigation Paralegal helps clients prepare patent applications and determine if their inventions are patentable. IP paralegals can submit petitions for reconsideration if the USPTO seeks further information or rejects an application. They can also do in-depth patent searches to locate previous art references. This will help them get technical, legal, or business information about the invention. It is critical to do a thorough study to determine the innovation's potential. Not only this, but it also ensures that it is unique and not comparable to any other patented invention.
Also Read: 5 Major Benefits of Patent Paralegal Service
Why Choose Patent Paralegal Force?
Intellectual property protection encourages innovation by allowing fully to use the advantages of their creation without fear of infringement. Intellectual assets that remain well-protected provide a competitive advantage to the stakeholder. An IP paralegal assists the inventor in claiming rights to the innovation and filing applications with the appropriate regulatory agencies. Lawyers, businesses, and organizations can hire them to complete intellectual property legal work quickly.
Patent Paralegal Force keeps a track of your patent applications for you. We keep you informed about new patents in your field of the invention on a regular basis. Our team of paralegal professionals employs cutting-edge technology to deliver a wide range of services. Docketing for several nations, proofreading, end-to-end IDS management, document procurement, data verification, and form preparation are among the services available.
To make an inquiry, visit Patent Paralegal Force Services.
Other Related Articles
Everything About Patent Docketing
How to Minimize Patent Translation and Filing Cost?