A patent document is a legally structured document which requires expert supervision while construction. Patent paralegal service includes maintaining records, making new updates and timely retrieval and response drafting to the clients, and many more.
A Patent Paralegal not only works for IP matters but also work under the guidance of a patent attorney for various legal matters. Moreover, the work at a patent office and in patent research companies involves continuous paralegal services.
Before jumping onto the benefits of services of patent paralegal, let's first understand the duties that patent paralegal perform.
Also Read: Patent Paralegal vs Attorney: The Differences You Must Know
Indispensable Patent Paralegal Duties:
Patent paralegals work under licensed patent attorneys and help in many aspects of patent paralegal matters. They do not practice law as licensed attorneys, but, their duties are vital for efficient legal workflow. Some of the major duties of a Patent Paralegal include:
Patent Document Preparation and Maintenance: Patent registration is a very hectic process and requires preparing and maintaining proper documents while filing. Furthermore, it involves maintenance of fee records (paid and unpaid), international filings requests and approved applications. Patent paralegals maintain a complete docket and timely update their clients about their due-dates.
Performing Patent Search: patent search is about finding already issued patents and published patent applications. In short, a patent search is a prior art search conducted while applying for a patent.
Patent Term Adjustment (PTA): this is about adjusting the lifespan of a patent grant. USPTO is responsible for carrying out the process. It happens when there is a delay while performing prosecution at the end of USPTO.
Responding to Office Actions: patent office examiner examines the application and informs the applicant about the errors if any. A patent paralegal thoroughly proofreads the application and removes even the slightest of the errors.
Conducting Research on Patent and Copyright Law: Patent Paralegals regularly update themselves with patent law and amendments so made by the USPTO. As the old legal procedures become obsolete with time. The updated information helps them keep up with the developments in the profession, also with this, they provide best-in-class services.
Also Read: Why patent assertion is important?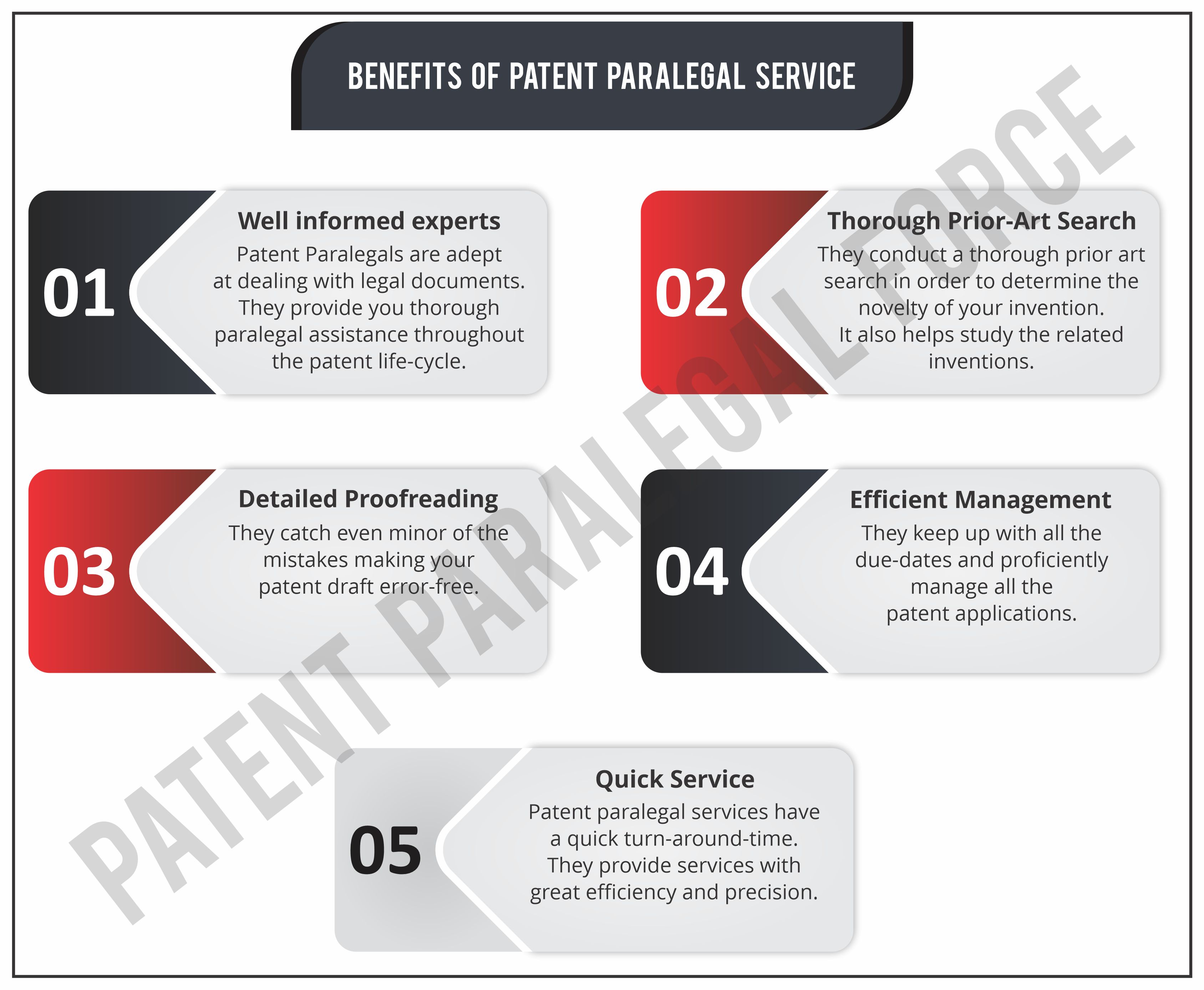 Benefits of Patent Paralegal Service :
Now that you are certain with what duties a patent paralegal performs. Let's move on to what benefit it brings to us when we go out for filing a patent application.
Well-Informed Experts: Patent Paralegals are adept at dealing with legal documents. They assist you from the very first stage of patent filing till and beyond getting a patent grant.
Thorough Prior-Art Search: conducting a prior art search is becoming very crucial before filing a patent application. This is so because there are multiple inventors out there filing related patent applications. Therefore, one needs to conduct a thorough prior art search before taking another step. Performing a prior art search is an art in itself. As in, it takes a lot of technical understanding of the terms and to come to a conclusion. Patent paralegals are pro at fetching out any prior art if it so exists. This ensures you whether your invention is new or not.
Detailed Proofreading: while preparing patent documents, you might come up with minor mistakes that your eyes might not catch. These mistakes can emerge as a major setback for your patent application when it goes for prosecution. But, patent paralegal service agents ensure complete elimination of such mistakes.
Efficient Management: managing multiple patent applications and keeping up with the due dates is a lot of tasks. Missing on any due date can cost a lot to you as an inventor. You as an inventor might skip a date. On the other hand, patent paralegal service providers readily notify you as soon as a deadline arrives.
Quick Service: the services so provided have a quick turn-around-time. Patent paralegals profess upon handling patent applications. They offer all the essential pre-grant and post-grant services with great efficiency and precision.
Also Read: US Patent Proofreading – with USPTO Best Practices
What do we bring?
We, at Patent Paralegal Force, provide diligent paralegal services. Our team of paralegal professionals uses state-of-the-art tools to provide a bouquet of Patent paralegal service. Our reliable services include patent docketing, proofreading, end-to-end IDS management, document procurement, and application filing and form preparation. We ensure a quick turn-around-time and serving 45 countries around the globe at cost-effective rates. To know more about services, do visit Patent Paralegal Force.
Other Related Articles:
Patent Drafting Vitals: You Can't Miss These!